Yokomo Wings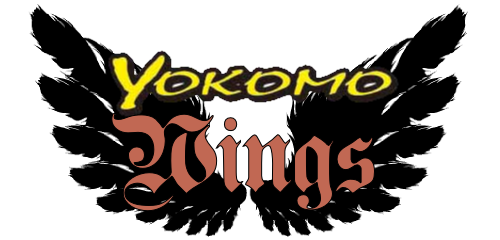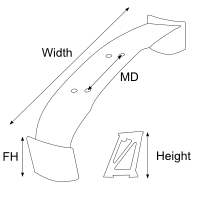 In the table below you can compare all Yokomo wings. Please refer to the illustration about the dimensions of the wing. Height refers to the height of the wing mount.
If you click on "More" you will see an image of all parts included in the accessory pack.
A click on the "Shop"-link will guide you to the shop where you can put the product into your shopping cart. All images are also included in the product description of the shop.
Please note that this information is supplied without liability.



Goodyear Racing Bee-R B324R Skyline




More


Width: 180mm, MD: 130mm
FH: 15mm, Height: 7mm


Shop




Blitz ER34 D1 Spec




More


Width: 170mm, MD: 95mm
FH: 20mm, Height: 9mm


Shop




Yuke's Impreza




More


Width: 165mm, MD: 139mm
FH: 15mm, Height:30mm


Shop




HKS Hiper Silvia




More


Width: 170mm, MD: 101mm
FH: 15mm, Height: 28mm


Shop




T&E Soarer




More


Width: 189mm, MD: 65mm
FH: 10mm, Height: 29mm


Shop




RE Ameya RX-7




More


Width: 190mm, MD: 129mm
FH: 18mm, Height: 24mm


Shop




460 Power S14 Silvia




More


Width: 170mm, MD: 49mm
FH: 30mm, Height: 11mm


Shop




Team Toyo w/ GP Sports S15 Silvia




More


Width: 195mm, MD: 85mm
FH: 11mm, Height: 36mm


Shop




ORC Z33




More


Width: 169mm, MD: 116mm
FH: 15mm, Height: 22mm


Shop




Trust S15




More


Width: 184mm, MD: 80mm
FH: 15mm, Height: 30mm


Shop




RS R JZA80 Supra




More


Width: 190mm, MD: 118mm
FH: 9mm, Height: 30mm


Shop




Kunny'z Chaser JZX100




More


Width: 186mm, MD: 100mm
FH: 37mm, Height: 26mm


Shop




A'pex FD3S RX-7




More


Width: 191mm, MD: 129mm
FH: 13mm, Height: 31mm


Shop




Drift Xtreme PS13




More


Width: 184mm, MD: 67mm
FH: 18mm, Height: 31mm


Shop




Sunrise/Mercury AE86 Levin




More


Width: 181mm, MD: 140mm
FH: 14mm, Height: 30mm


Shop




Top Secret S15 Silvia




More


Width: 189mm, MD: 136mm
FH: 14mm, Height: 20mm


Shop




Kei Office S15 Silvia




More


Width: 168mm, MD: 51mm
FH: 14mm, Height: 18mm


Shop




Goodyear Racing Zero Crown




More


Width: 133mm, MD: -mm
FH: 5.5mm, Height: -mm


Shop




Yuke's Syms Impreza




More


Width: 176mm, MD: 130mm
FH: 15mm, Height: 36mm


Shop




Wonder C35 Laurel




More


Width: 185mm, MD: 88mm
FH: 22mm, Height: 28mm


Shop




D-MAX Diversion ADVAN ONE-VIA




More


Width: 186mm, MD: 144mm
FH: 25mm, Height: 21mm


Shop




Yuke's Cusco Lancer Evo X




More


Width: 182mm, MD: 52mm
FH: 19mm, Height: 33mm


Shop




Dunlop Koguchi Power 180SX




More


Width: 184mm, MD: 107mm
FH: 20mm, Height: 27mm


Shop




Team Samurai Project FC3S




More


Width: 181mm, MD: 125mm
FH: 18mm, Height: 18mm


Shop




M7 RE Amemiya Toyo D1-7




More


Width: 185mm, MD: 116mm
FH: 18mm, Height: 25mm


Shop




Team Boss Potenza S15




More


Width: 183mm, MD: 52mm
FH: 15mm, Height: 28mm


Shop




Blitz Dunlop ER34




More


Width: 168mm, MD: 96m
FH: 18mm, Height: 27mm


Shop




Goodyear Racing Kunny'z Chaser




More


Width: 185mm, MD: 91mm
FH: 37mm, Height: 24mm


Shop




Team Bandoh with NATS Aristo




More


Width: 159mm, MD: 43mm
FH: 10mm, Height: 15mm


Shop




Team Toyo Tires/ GP Sports 180SX




More


Width: 184mm, MD: 96mm
FH: 13mm, Height: 31mm


Shop